Lecuyer, Matthew

June 9, 2021

Written by MSDC Staff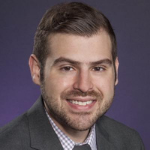 Matthew Lecuyer, MD, MPH

Dr. Matthew Lecuyer is board-certified in general pediatrics and is a Fellow of the American Academy of Pediatrics. He is an attending physician at Children's National Hospital, where he practices pediatric emergency medicine, and Instructor of Pediatrics and Emergency Medicine at the George Washington School of Medicine and Health Sciences.

Dr. Lecuyer grew up in Massachusetts, completed his undergraduate degree at Georgetown University and his medical degree at the University of Massachusetts. He completed his residency at McGaw Medical Center of Northwestern University and completed a fellowship in pediatric emergency medicine at Brown University, where he also completed a Master of Public Health degree, while in fellowship.

Dr. Lecuyer has been involved in organized medicine since his first year of medical school, serving as chair of the American Medical Association Resident and Fellow Section and as Alternate Delegate for the Massachusetts Delegation to the AMA. An MSDC member since his return to DC in 2019, he now serves on MSDC's Board of Directors as AMA Alternate Delegate. He was named chair of the Task Force on Unconscious Bias in Medicine, which has conducted in-depth research on the incidence of bias in medicine in the District and provided a report on the findings. Dr. Lecuyer enthusiastically leads the MSDC Bright Young Doctors Section.
When he is not at the hospital or working within organized medicine, Dr. Lecuyer enjoys running, traveling, and all things Disney.