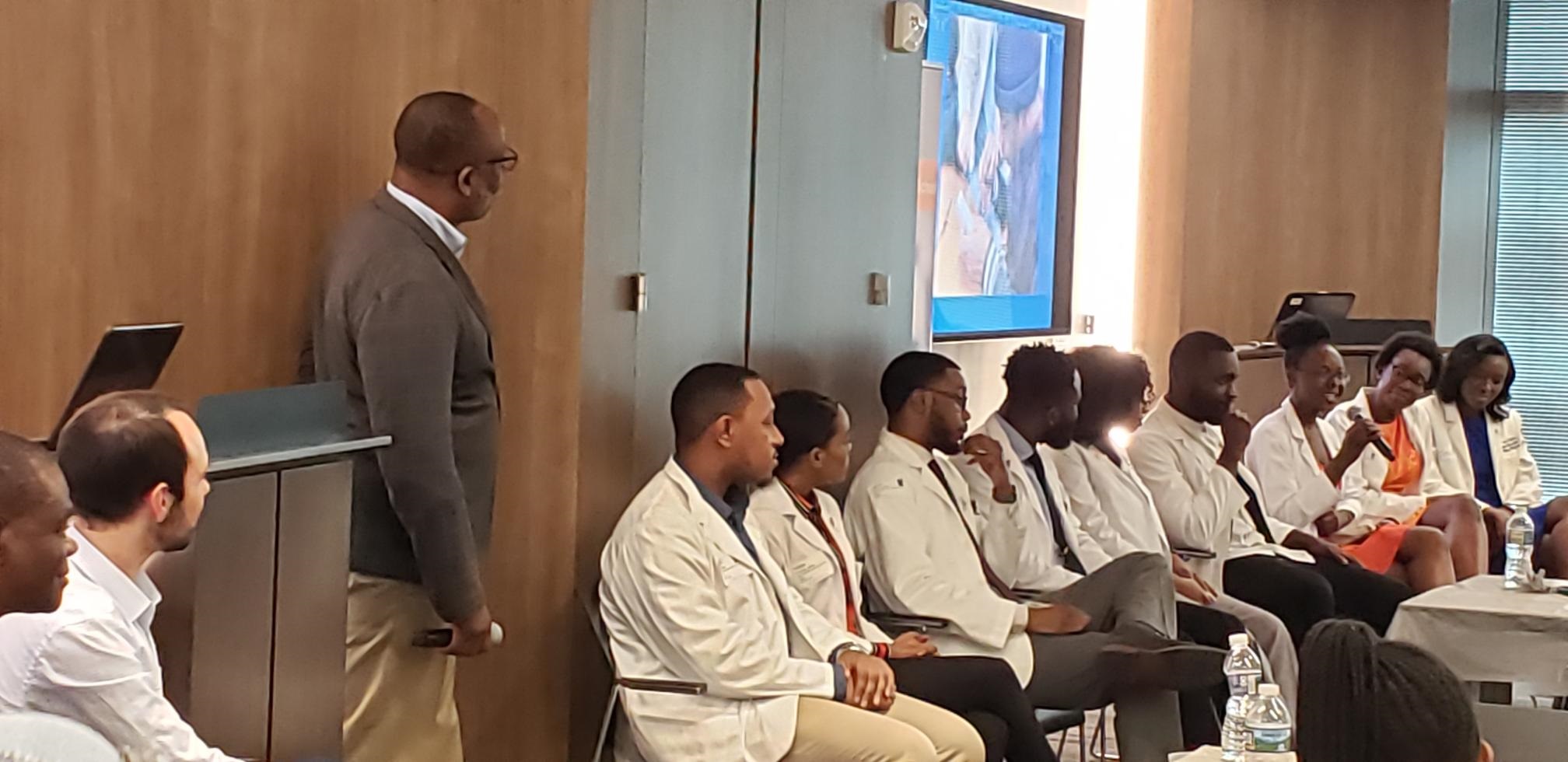 Being a physician in the District in the 21st century means being on the front line of the most pressing public health issues in the world. In our small geographic boundaries, physicians help address issue found in every state all in one area. The issues are too lengthy to list on one webpage but physicians are on the front lines of addressing health issues for all District residents.

News, MSDC Statements, and MSDC Testimony on Health Equity Issues

24th Council session information coming soon.
MSDC and DC Health Recognize a Strong and Enduring Partnership
Sep 20, 2022, 10:22 AM by MSDC staff
MSDC held its September Board meeting at DC Health to hear from Interim Director Dr. Sharon Lewis on the department's priorities.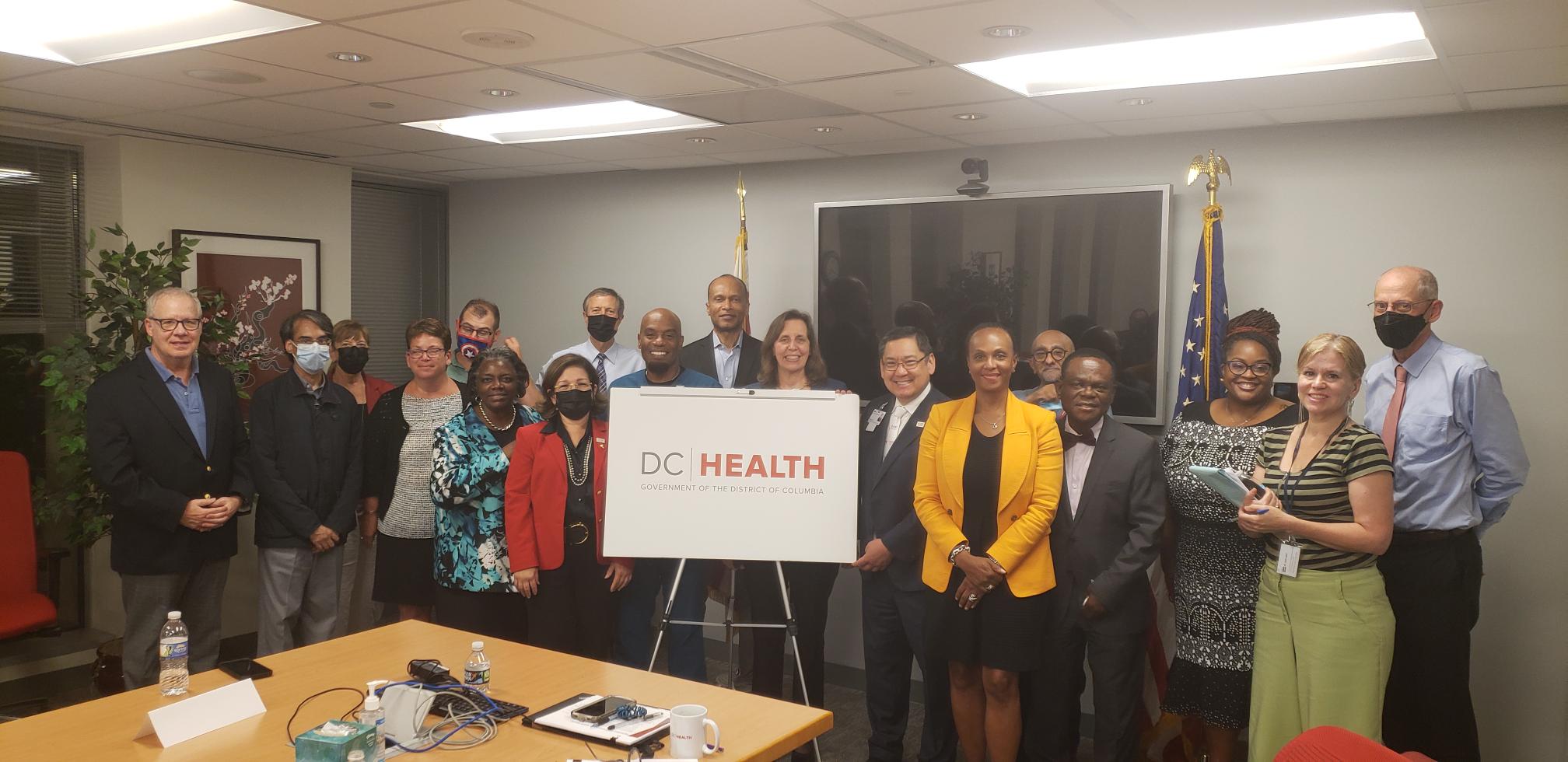 Last night, MSDC held its September Board Meeting at DC Health Headquarters at 899 N Capitol St NE, Washington, DC. In attendance were many DC Health leadership staff and MSDC Board of Director members. This is MSDC's final board meeting before the new leadership is announced and installed at the 2022 Annual Meeting next month.
MSDC Board Chair Dr. J. Desiree Pineda kicked off the meeting, recognizing the strong working relationship between MSDC and DC Health. Most notably, MSDC and DC Health co-hosted a webinar on medical license renewal in DC at the beginning of September. In addition, MSDC members have provided physician input to DC Health and the Board of Medicine on multiple topics. These include public health and licensure issues, such as minor consent for vaccination, maternal health, and interstate licensure.
DC Health Interim Director Sharon Lewis, DHA, discussed updates from DC Health including:
DC Health's priority to make the District the healthiest place to live in the US
Upcoming changes to the boards of licensing
The District's national recognition for its public health responses to COVID-19 and monkeypox
Concerns over childhood vaccinations and efforts to address vaccinations in school age children
Changes and updates to the medical license process
and more.
MSDC's Board meeting continued with a full agenda covering many items. Among them were:
As the 24th DC Council period heads into its final months, MSDC is vigorously pursuing its advocacy priorities. This includes legislation addressing reproductive health, copay accumulators, prior authorization, health equity, and more. To raise awareness and help legislation move forward, MSDC and its partners are conducting a Day of Action on September 20.
The MSDC 2022 Annual Meeting is taking place on Friday, October 28, both in-person at the AIA Event Center near the White House and virtually. This marks MSDC's 205th anniversary since its founding in 1817.
UnitedHealthcare, an MSDC Corporate Partner, provided an overview of its Medicare/Medicaid dual-eligible program. See here for an overview of the program.
MSDC reported on its participation on the Mayor's Healthcare Workforce Task Force, in which MSDC assists the Administration in sustaining the District's healthcare workforce.
The MSDC Board recognized Dr. Laurie Duncan who is rolling off the Board of Directors in October. She has served MSDC in many capacities including her tenure as Secretary, Chair of the Bylaws Task Force, and member of the Physician Health Committee.
Sample of Health Equity Legislation MSDC Tracked
Student Access to Treatment Amendment Act (B23-467)

What does it say? The bill allows for the administration of medicinal marijuana in schools as well as allows students to bring sunscreen to schools and apply it without a prescription.
MSDC position: MSDC supports the language permitting sunscreen application in schools
Current status: A win for DC physicians and public health! The legislation passed the Council in February and was signed by the Mayor. Previous temporary and emergency legislation permitted students to use sunscreen at schools this school year already.

Electronic Medical Order for Scope of Treatment Registry Amendment Act (B23-261)

What does it say? The bill requires DC Health to establish an electronic Medical Order for Scope of Treatment registry (eMOST).
MSDC position: MSDC supports this legislation to more easily allow patients to make their treatment orders known.
Current status: A win for the physician community and our patients! The Council passed the bill in December and the Mayor signed it into law on January 16, 2020.

Healthy Beverage Choices Amendment Act (B23-495)
What does it say? The bill would implement a 1.5 cent per ounce tax on the distribution of "sugary" beverages. The money collected from the tax would establish a Healthy People, Healthy Places Open Spaces Grant Program.
MSDC position: MSDC sent a letter to Council Chair Mendelson asking for a hearing to discuss all of the issues around a beverage tax.
Current status: The bill was introduced October 8, 2019 and referred to the Committee on Business and Economic Development and the Committee of the Whole.