PHP and Addiction Resources
Important update
The MSDC Physician Health Program has issued new guidance for participants regarding testing. This is in response to the COVID-19 outbreak. Read more here.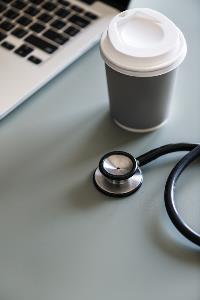 The MSDC Physician Health Program is a private, confidential, non-disciplinary program that works to advocate for the health and well-being of all physicians in the metropolitan Washington, DC, area and to safeguard the public.

The Program is HIPAA compliant and protects the confidentiality of participant records as set forth under DC and Federal law. The program is administered by the Medical Society of DC and is separate from the DC Board of Medicine. Read more in the MSDC PHP brochure.

For a confidential consultation for your or a colleague that may benefit from our help, please call (202) 466-1800 x102 or email us. This is not an emergency service; for emergencies please call 911 or the National Suicide Prevention Lifeline at 1-800-273-TALK.

Presentations

The PHP can help hospitals meet Joint Commission requirements by providing information on physician impairment at medical staff meetings or grand rounds. An overview of the services or a CME lecture on physician impairment may be scheduled by contacting Steve Carreras by email.

Support Your Colleagues
Do you want to help support your fellow physicians going through their own struggles? The Sterling Ruffin Fund was established to fund physician health and addiction programs. Your generous gift allows MSDC to continue supporting those physicians in most need.
MSDC Board Approves Medical Record Education Initiative
Impact of the CURES Act and pandemic creates in-depth discussion on Medical Society's role in informing members of medical records best practices.

The MSDC Board has a long-ranging discussion on patient access to medical records and what the Society can do to educate its members on best practices during yesterday's Board of Directors' meeting.
The discussion of the CURES Act was one of a number of in-depth discussions the Board held on major issues facing DC medicine.
Recent federal guidance expands patient access to medical records, which raises concerns among physicians that patients or caregivers may have access to confidential or confusing medical records. The American Medical Association has a summary of information here. The Board asked staff to put educational information on the Society's website and social media as well as compile DC physician stories on implementation to share with the AMA as part of their federal advocacy on the effort.
In addition, the Board discussed or took action on the following items:
The Board approved the suggestions of the Advocacy Committee to "support" B24-19, B24-20, B24-29, and B24-143.
The Board received an update from the Membership Task Force's work on a new membership model.
Dr. Moghimi updated the Board on the Behavioral Health Integration Stakeholder Advisory Group.
The Board approved the 2021-2022 Nominating Committee: Drs. EW Emanuel, Kirsty Nevin, Anjula Agrawal, Sahil Angelo, Christi Hay, and Klint Peebles.
And more.
The next MSDC Board of Directors meeting is June 28 at 6:30 PM, location TBD. Any member in good standing interested in attending may contact Robert Hay at hay [at] msdc.org.