Leighton, Nicolas
Jun 23, 2021, 13:37 PM by MSDC Staff
Member Spotlight: Meet Nicolas Leighton, a medical student at GW SMHS who is serving the health needs of the community in myriad ways.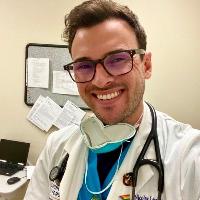 Nicolas Leighton

Nicolas Leighton is a third-year medical student at the George Washington School of Medicine & Health Sciences. He is very active in organized medicine, both here in the District of Columbia and nationally, and is already working to improve the health of the community in the District of Columbia.

A member of the Medical Society of DC since 2020, he has taken a leadership role in the Medical Society's Bright Young Doctors Section and is working to develop programs to benefit medical students and early career physicians. As president of the GW Chapter of the American Medical Association he collaborates with medical students at each of the District's medical schools to increase educational, networking and volunteer opportunities. In May 2021, he was elected by the AMA Medical Students Section and AMA Foundation Board of Directors to serve as the only medical student representative on the AMA Foundation Board of Directors.
He is dedicated to advancing public health and serving the community here in the District of Columbia. Last spring, he volunteered weekly at COVID drive-thru testing sites. He also launched a community outreach program to deliver "COVID care kits" with much-needed PPE and personal hygiene products to the local DC community experiencing homelessness. He recently discussed the health needs of the LGBTQ community and the importance of Pride Month in a Washington Healthcare on Wednesday interview with MSDC President Dr. E.W. Emanuel.