DC Launches New COVID-19 Exposure Notification Tool
DC now has a privacy-protecting contact tracing system run through your smartphone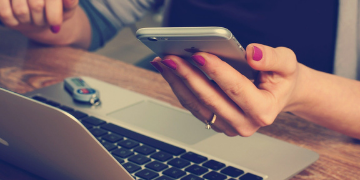 Today, District residents will be able to assist contact tracing in a new way - via their smartphones.
The District government has launched a new system called DC COVID Alert Notice, or DC CAN. The mobile phone-based program allows residents to be aware when they have come into close proximity with someone who has tested positive, or to report to others when they test positive.
At a Monday press conference, DC Health Director Dr. LaQandra Nesbitt walked through the process. When a person tests positive for COVID-19, the DC Health contact tracing program will reach out and ask the person if they use DC CAN. Users will be given a code for them to enter into their phone, and that code will activate a Bluetooth notification. People who use DC CAN who have been in close proximity to that person will receive pop-up notifications on next steps to protect themselves and their community from COVID spread.
The government stressed that the system is private and secure. The technology was developed through a partnership between Apple and Google, and uses Bluetooth technology to exchange signals. No GPS data or identification data is transmitted, so the exposed person's identity or location will not be revealed. A similar notification system has been in use in Virginia for a few months. However, the DC tool is not interoperable with the Virginia system, so a positive COVID test in the District will not notify a Virginia resident who was exposed to that person.
MSDC encourages its members to share information with patients about the system and how to use it, so the District can effectively use the technology to blunt the spread of COVID-19. Below is a Tweet posted by Deputy Mayor John Falcicchio on how to install the notification system.
______________________________________________________________________
You can help us stop the spread of the #coronavirus by turning on exposure notifications on your iPhone or Android

Here's how to activate DC #COVID Alert Notice (DC CAN) in the settings on your iPhone pic.twitter.com/ZrefuaZkIR

— John J. Falcicchio (@falcicchio) October 20, 2020
https://twitter.com/i/status/88475651