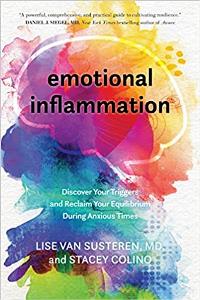 MSDC President Dr. E.W. Emanuel continues his interview series with MSDC member and author Dr. Lise Van Susteren about her book, "Emotional Inflammation: Discover Your Triggers and Reclaim Your Equilibrium During Anxious Times."

View the recording HERE


Key takeaways:

What is emotional inflammation?
According to Dr. Van Susteren, it is a state not unlike post-traumatic stress disorder, which stems from simply living in our modern overwhelming and tumultuous world, which has only grown more so over the past year and a half. Learn to identify and explain emotional inflammation and its negative impact.

Are physicians vulnerable to this condition?
Many people, including physicians, do not even realize they suffer from this all-too-common phenomenon. Drs. Emanuel and Van Susteren discuss general and physician-specific triggers which spring up in response to stress overload.

How can you (and your patients) restore balance?
Dr. Van Susteren recommends the RESTORE method to combat emotional inflammation, recover inner balance and restore one's effectiveness, resilience, and joy.
• Recognize Your Feelings
• Evaluate Your Triggers
• Steady Your Body's Natural Rhythms
• Think Yourself into a Safe Space
• Obey Your Body
• Reclaim the Gifts of Nature
• Exercise Your Power

Dr. Van Susteren also shares insights on the effect of climate change, gun violence, technology, and more, gleaned from her many years as a general and forensic psychiatrist in Washington, DC.

Additional resources:
Get the book, "Emotional Inflammation: Discover Your Triggers and Reclaim Your Equilibrium During Anxious Times"
Bookshop.org (provides support for local bookstores)

Amazon

ECOPSYCHEPEDIA https://www.ecopsychepedia.com/

CLIMATE PSYCHIATRY ALLIANCE
https://www.climatepsychiatry.org

MEDICAL SOCIETY CONSORTIUM ON CLIMATE AND HEALTH https://medsocietiesforclimatehealth.org/

About the Author:
LISE VAN SUSTEREN, MD, previously served as a clinical professor of psychiatry at Georgetown University. She is a go-to commentator about anxiety and trauma for television (including CNN, Good Morning America, NBC, VOA, and Fox News), radio (NPR, Minnesota Public Radio, and others), print media (including the Washington Post, Wall Street Journal, Newsweek, Huffington Post, and CQ Magazine), and online outlets (such as U.S. News & World Report, Global Health NOW, and many others).

As a thought leader and activist, Dr. Van Susteren addresses issues related to trauma and emotional inflammation through her roles at the Earth Day Network and Physicians for Social Responsibility. She is considered an expert in the psychological effects of climate change.