Taking Charge of Uncertainty and Loss
The impact of the pandemic on women in medicine
Wednesday, May 19
Hosted by Women In Medicine Section
View Recording (available through June 27)
(Password "Healing2021")
View Slidedeck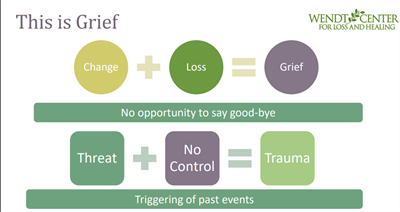 This recorded session addresses the grief and trauma specific to women in medicine during the pandemic. Many have even grown numb to the feeling of burnout. Working with a licensed counselor, learn to self-identify the emotional triggers, repeating language patterns, and ways to sustain self during this period of uncertainty and loss.

Presenters:
Melissa Sellevaag, LICSW
Melissa Sellevaag, LICSW is currently the Director of Training and Education at the Wendt Center for Loss and Healing. She is responsible for the development and implementation of the Wendt Center Training Institute; a premier training academy focused on the intersection of grief and trauma.
Melissa has over seventeen years of experience providing direct services to individuals, families and youth in the District with a special focus on persons living with and impacted by HIV. Melissa has developed, implemented and supervised innovative community-based trauma-informed programming aimed at reducing the barriers to stability and wellness. Her clinical work has included positions at the Consortium for Child Welfare, Metro TeenAIDS, Whitman-Walker Health, and she is currently at the Wendt Center for Loss and Healing.
Additionally, Melissa has a robust background in training and technical assistance. She has designed, organized and implemented training and technical assistance programs on both a local and national level.
She holds a MA in Counseling from Marist College and a MSW from Catholic University. She is a licensed clinical social worker in Washington, DC.



Chrissy Ndjatou, CPNP-PC
Chrissy Ndjatou is a Nurse Practitioner who provides primary care in Ward 8 of Washington, DC. She specializes in adolescent medicine, sexual health, and trauma-informed healthcare. Prior to nursing, she worked in youth development and health education. Clinical interests include health equity and the integration of mental health treatment into primary care. She holds degrees from Georgetown University, Drexel University, and Marymount University.