Member Spotlight - Jaya Kasaraneni

September 2, 2021

Written by MSDC Staff
Dr. Jayaprada (Jaya) Kasaraneni, MD, MSHA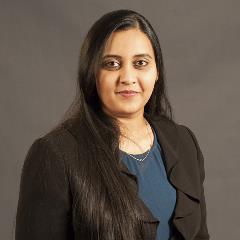 Dr. Kasaraneni is the new Chair of the MSDC Women in Medicine Section, a member of the MSDC Advocacy Committee, and a member of the MSDC Task Force on Family Violence. In mid-September, she will begin a new role as Associate Medical Director at Unity Health Care's East of the River Health Center. She recently completed the Fellowship in Community Health Leadership Development at Georgetown University.

As Chair of the Women in Medicine Section she aims to promote and support women in medicine in their personal and professional lives. Prior to coming to Washington, DC, she completed residency training in Texas where she led her local medical county society's women in medicine initiative. She is inspired to support and advance the community of women physicians in the District. She states, "Women physicians have served as pillars of strength for their patients, families, and community during the pandemic. I am honored to work on behalf of the hard-working women physicians of our nation's capital."

At Unity Health Care, she will see patients and focus on bringing widespread change to how access to healthcare impacts communities and populations. She has a special interest in burnout and suicide prevention--in both physicians and patients. She also has a strong interest in teaching medical students.

Dr. Kasaraneni grew up primarily in Portland, OR. She earned her M.S. in Healthcare Administration from Oregon Health & Science University. She completed her family medicine residency training at Texas Tech University Health Sciences Center in Texas and an administrative fellowship at Parkview Health, in Fort Wayne, IN. When not practicing medicine, Dr. Kasaraneni enjoys spending time with her family, exploring the culture across the DMV, and travelling to new places.