Aramburu, Maria

April 15, 2021

Written by MSDC Staff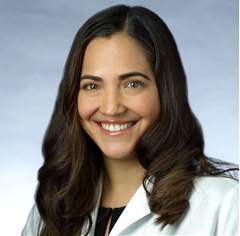 Maria Aramburu, MD

Dr. Maria Aramburu is a board-certified pediatrician who is receiving the Distinguished Service Award for outstanding service to the Medical Society. She is being recognized as Co-chair of the Women In Medicine Section and as a COVID Clinician Champion.

As a practicing pediatrician and fellow of the American Academy of Pediatrics, she is an Assistant Professor at MedStar Georgetown University. She also serves as the Medical Director for the Roosevelt School Based Health Center at Roosevelt High School in Washington, DC. Her focus includes trauma sensitive care for youth, immigrant health and reducing health disparities.

Dr. Aramburu has served the Medical Society as co-chair of MSDC's Women in Medicine Section. The Section has hosted multiple MSDC events since its inception and didn't stop despite the pandemic. Last year, working with co-chair Dr. Anjali Malik, MD, she coordinated numerous Washington Healthcare on Wednesday programs on diverse, relevant topics such as imposter syndrome and parenting and provided advice to women physician trainees. In addition to serving as co-chair for the Women in Medicine Section, Dr. Aramburu is a COVID-19 Clinician Champion. The COVID-19 Clinician Champion Program (DC CCCP) is a partnership between DC Health and MSDC to provide much-needed information on the importance and science behind the COVID-19 vaccine and the pandemic. In this role, she volunteers to speak in the community at meetings and events focused on COVID-19.