MSDC Examines Healthcare Models With International Healthcare Experts

September 29, 2020

Written by MSDC Staff
With both a global pandemic and the U.S. presidential election underway, healthcare and the policy that determines individual access is a key priority for Americans. Just a month before the Affordable Care Act is slated to be heard before the U.S. Supreme Court, the Medical Society of DC will host a healthcare forum on healthcare models. The webinar will take place on Thursday, October 8, 2020, at 12 Noon (Eastern) and it will feature Thomas Zeltner, the former Secretary of Health of Switzerland and Director-General of the Swiss National Health Authority, and Eliot Sorel, MD, MSDC past president and co-signatory of Amici Curiae. The webinar is free and open to regional, national, and international healthcare professionals, policymakers, and the public. Registration is open and available at
bit.ly/SwissMed
.
Access to healthcare for all Americans has been more than a century long quest, that is all the more poignant in a Presidential election year during a global pandemic. Some significant gains were accomplished with the Affordable Care Act, which was passed by the U.S. Congress in 2009 and will be contested for a third time before the U.S. Supreme Court this November. Switzerland has accomplished access to care for all its citizens through a public and private integrated model not predicated on employment, a key determinant for healthcare in the United States. This webinar will review the Swiss healthcare model and address its relevance to the United States.
The Keynote Speaker will be
Prof. Dr. Thomas Zeltner
, former Secretary of Health of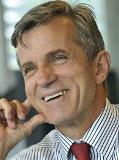 Switzerland and Director-General of the Swiss National Health Authority (1991-2009). He is the founder and first chairman of the WHO Foundation established in Geneva in May 2020. The Foundation works with individual donors, the general public and corporate partners to strengthen the global health ecosystem. Zeltner currently advises the Swiss Government in the Covid-19 crisis, particularly on providing a Covid-19 vaccine to the Swiss population as well as for the rest of the world. He is Chairman of the Swiss Blood Transfusion Inc. a non-profit public limited company within the Swiss Red Cross (SRC).