Immunization and the Coming COVID-19 Vaccine

December 9, 2020 6:00 PM to 7:00 PM
Register Now
Immunization is a hot topic in the District. While we have seen good rates of flu vaccine acceptance, overall vaccination rates are still below the generally accepted herd immunity level. The debate over the Council's Minor Consent for Vaccinations bill shows anti-vaxxer talking points still resonate.
The coming COVID-19 vaccine makes these issues even more important to discuss. Will the blow back against generally accepted vaccines make COVID-19 distribution harder? What should physician think about the COVID-19 vaccine when they are going to be the first people to receive it? How will distribution work?
MSDC has compiled a panel of knowledgeable physicians to discuss immunization in the District and what's coming with the COVID vaccine. Join us to have your questions answered and engage in a lively discussion.
Moderator: J. Desiree Pineda, MD, FACP. Dr. Pineda is the Immediate Past President of the Medical Society, as well as a delegate to the American Medical Association House of Delegates. She also serves on the DC Health scientific advisory committee for the COVID-19 vaccine.
Speakers: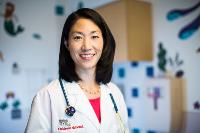 Linda Fu, MD, MS, is a general pediatrician at Children's National Hospital and an Associate Professor of Pediatrics at George Washington University School of Medicine. Dr. Fu also serves as the Director of Academic Development for the Goldberg Center for Community Pediatric Health. Dr. Fu's research and advocacy interests lie in improving understanding of and access to vaccinations through improving vaccine confidence and reducing systemic barriers to vaccination services. Over the years, she has provided evidence-based, vaccine delivery training to hundreds of pediatricians and college health professionals in over 40 states and DC through her leadership of immunization learning collaboratives. She led the first immunization learning collaborative to be approved by the American Board of Pediatrics to award maintenance of certification credit to participants. This program became a model for the American Academy of Pediatrics' immunization QI curriculum. She is currently a member of the AAP's Global Immunization Project Advisory Committee helping to develop a simulation curriculum to teach healthcare providers how to address vaccine hesitancy under diverse resource conditions. She also serves as chair of ImmunizeDC, a community coalition of diverse stakeholders whose mission is to improve vaccination in the District of Columbia.
Janine Rethy, MD, MPH
Ankoor Shah, MD, MBA