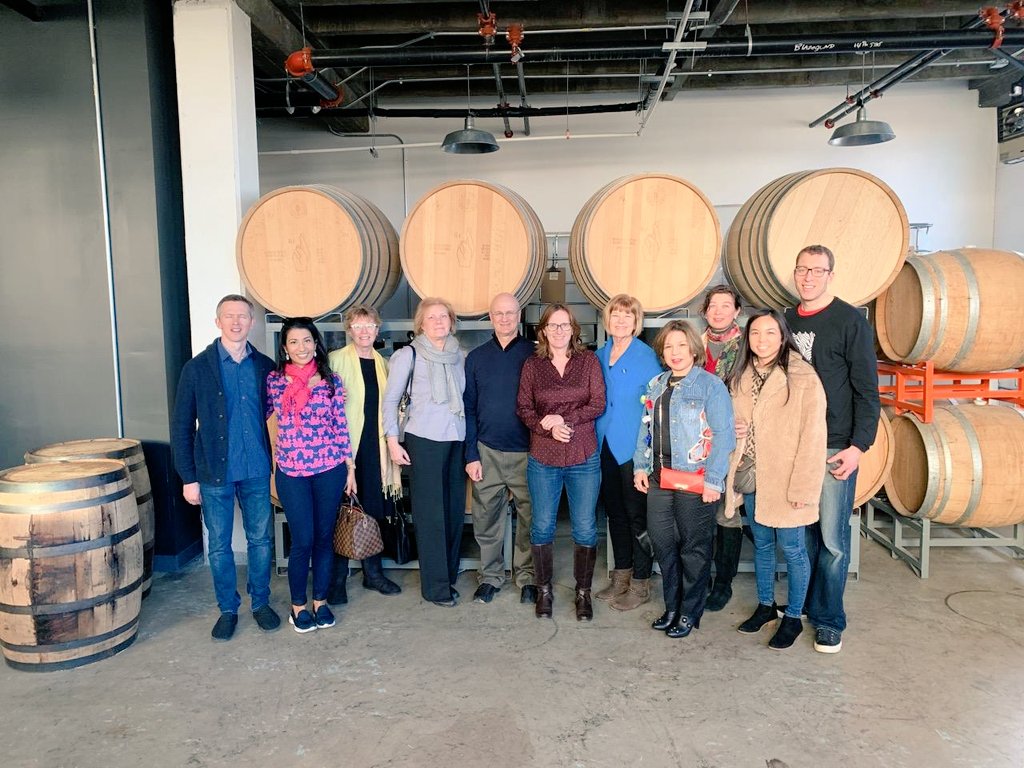 Physician Wellness
MSDC joins the American Medical Association and the entire House of Medicine in recognizing the epidemic of burnout in healthcare professionals. In particular, MSDC remains dedicated to providing resources and support to District physicians in their struggle against burnout. For decades, MSDC has provided support and advocacy for those physicians battling addiction. MSDC has officially launched The Healthy Physician Program to advance physician wellness.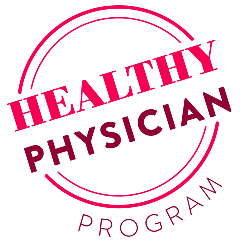 What is the Healthy Physician Program?
The Healthy Physician Program is MSDC's comprehensive physician wellness program that provides resources and templates to address moral injury and burnout. MSDC recognizes that burnout manifests in many forms, and it aims to create a program with a wide range of resources including coaching, counselling, networking, and best practice templates. The program is open to all physicians and is supported by physician organizations, foundations, and health systems.

What kind of resources will the Healthy Physician Program provide?
Over time, the program will include the following components: physician coaching (now available), counselling services (now available), networking events (now available), like-minded groups (now available), best practice templates for practices, and model policies.
What kind of wellness professionals will MSDC offer?
Initially, MSDC will offer certified coaches and licensed psychologists. In the years to come, MSDC will expand its wellness roster to more types of wellness professionals. Comparison of Helping Professions.
What kinds of services will MSDC wellness professionals offer?
MSDC's wellness professionals can address professional needs (leadership development, career coaching, workplace concerns, burnout) and professional needs (relationship discussions, identity concerns, work-life balance).
If I speak with one of the wellness professionals as part of the program, do I need to report it to the Board of Medicine?
No, the program is not a medical treatment or medical diagnosis program. The program offers wellbeing and therapeutic services that do not need to be reported to the Board.
Does the Healthy Physician Program help physicians with addictions?
MSDC recommends physicians with addiction concerns contact the MSDC Physician Health Program.
Click the plus next to each topic below to expand it and learn more about how MSDC is addressing burnout.
MSDC is offering members an opportunity to speak with a wellness professional to help address professional or personal issues driving burnout. Our list of professionals (seen here) span different specialties, experiences, and background. Speak with the ones that fit your needs, arrange an introductory appointment, and if they can assist you then MSDC will cover your initial visits.
MSDC educates the public and policy makers on the disastrous impact burnout and moral injury has on the District. Every day we share why physician health is important to public health. Join us and tell your story to key policy makers, to ensure we continue to move the District to become the best place to practice medicine.
DC Healthy Physicians Committee Members
| | |
| --- | --- |
| J. Desiree Pineda | MSDC President |
| Kaylan Baban | George Washington University Hospital |
| David Bowman | Howard University Hospital |
| Philip Candilis | St. Elizabeth's Hospital // MSDC Physician Health Program |
| Laurie Duncan | MSDC Executive Committee // Physician Health program |
| Daniel Marchalik | MedStar Health |
| Felicea Patel | Mid-Atlantic Permanente Medical Group |
| Laura Sander | Sibley Memorial Hospital |
| Theresa Stone | MedStar Health |
| Dock Winston | Mid-Atlantic Permanente Medical Group |
MSDC Past President Raymond Tu, MD: The Quadruple Aim - Radiologists and Physicians in the Center
The "Quadruple Aim" has recently gained attention as health care stakeholders have identified growing challenges to physician experience and burnout. Physician suicide is two-fold higher than the general population, and more common with older physicians. [1] Physician resilience, engagement, and work-life balance are recent additions to the patient-focused triple aim of patient access to care, excellent patient experience, and cost containment: don't waste resources, do good and respect the patient. [2] Though less apparent then facing the sharp end of the medical error arrow, the need for a creative and healthy provider environment should be considered essential to a successful physician experience.
Read the entire article in the American Society of Neuroradiology eNews here.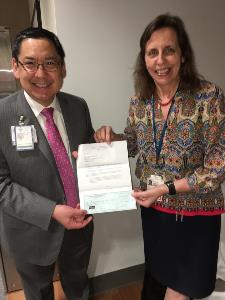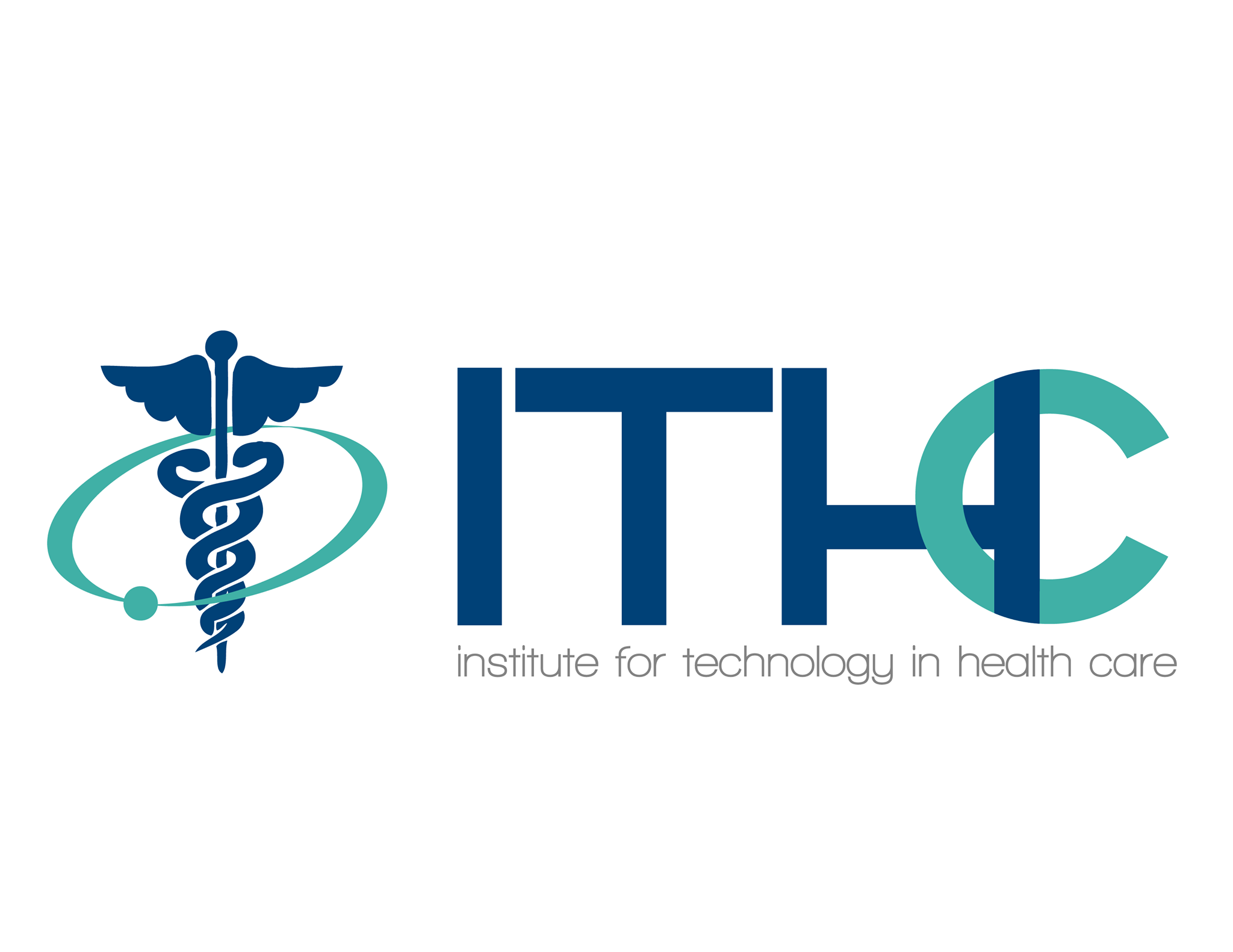 This award is supported by a grant from The Institute for Technology in HealthCare, a non-profit organization, located in Washington, DC. The Institute for Technology in HealthCare is concerned with the use of technology to benefit and stimulate others in health care. For more information about The Institute for Technology in HealthCare please visit the website at
www.ithcawards.org
.
MSDC Leaders Testify Before Board of Medicine and Council
Three MSDC leaders testified on numerous important health topics yesterday, furthering the Society's mission to make DC the best place to practice medicine,
Yesterday, MSDC leaders spoke out on myriad topics before the District government as part of the Society's mission to make DC the best place to practice medicine.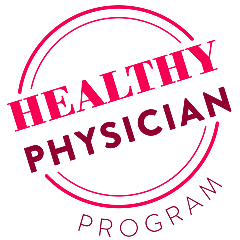 MSDC President J. Desiree Pineda, MD, FACP, presented to the monthly DC Board of Medicine meeting briefly on the new Healthy Physician Program. The program, to launch next week, provides professional and peer support services for physicians who are experiencing moral injury or need a colleague to speak with during these uncertain times. Dr. Pineda gave the Board an update and reinforced the need for the Board to collect and share good data as part of the license renewal process. MSDC seeks to work with DC Health to study workforce survey data to see how the COVID-19 pandemic is impacting physician wellbeing.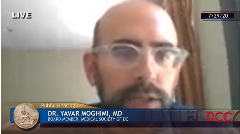 Also yesterday, two MSDC leaders testified before the Committee on Health on five separate bills. MSDC Board member and psychiatrist Yavar Moghimi, MD testified on B23-543, the Suicide Prevention Continuing Education Amendment Act of 2019. Dr. Moghimi testified that MSDC is concerned with the high rate of suicide in America, and referenced the higher-than-average suicide rate among medical professionals versus the entire population. However, Dr. Moghimi shared that the medical licensure process is a process designed to indicate who is qualified to practice medicine in the District, not who is most knowledgeable, and mandatory content matter across all specialties (even those who do not interact with patients) is counterproductive. Instead, on behalf of MSDC, Dr. Moghimi offered to work with DC Health and the private sector to educate the physician community on signs of suicide risk.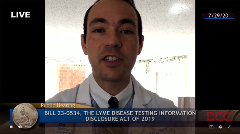 Samuel Kareff, MD, the Chair of MSDC's advocacy committee, testified on four other bills before the Committee: the Certificate of Stillbirth Amendment Act, the Lyme Disease Testing Information Disclosure Act, the Opioid Labeling Amendment Act, and the SMA Screening Act. Dr. Kareff provided a medical perspective on all four bills. He expressed MSDC's support for the Certificate of Sillbirth Act and the Opioid Labeling bill. He shared some concerns on the Lyme disease bill, as it would mandate a scripted message providers and health facilities must give a patient after a Lyme disease test. He also expressed support for the SMA Screening Act but shared the American College of Obstetricians and Gynecologists (ACOG) guidance on screening for SMA.
MSDC is constantly testifying before government entities on health policy. If you would like to learn how you can be involved in MSDC's advocacy efforts, contact our office.
Support Your Colleagues
Do you want to help support your fellow physicians going through their own struggles with wellbeing? The Medical Society and Alliance Foundation (MSAF) has created a fund for physician wellbeing. Your generous gift allows MSDC and MSAF to continue supporting those physicians in most need.
2020 Annual Meeting

October 30, 2020 6:00 PM to 7:30 PM

Online event

MSDC's annual physician event is a popular evening event for physicians, healthcare leaders and political figures to connect, get informed and toast the calling of medicine. Dr. Roger Mitchell, Interim Deputy Mayor for Public Safety and Justice, will be the Guest Speaker.