PHP and Addiction Resources
Important update
The MSDC Physician Health Program has issued new guidance for participants regarding testing. This is in response to the COVID-19 outbreak. Read more here.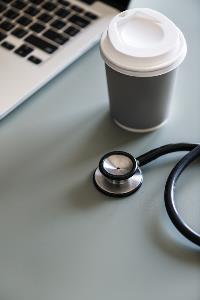 The MSDC Physician Health Program is a private, confidential, non-disciplinary program that works to advocate for the health and well-being of all physicians in the metropolitan Washington, DC, area and to safeguard the public.

The Program is HIPAA compliant and protects the confidentiality of participant records as set forth under DC and Federal law. The program is administered by the Medical Society of DC and is separate from the DC Board of Medicine. Read more in the MSDC PHP brochure.

For a confidential consultation for your or a colleague that may benefit from our help, please call (202) 466-1800 x102 or email us. This is not an emergency service; for emergencies please call 911 or the National Suicide Prevention Lifeline at 1-800-273-TALK.

Presentations

The PHP can help hospitals meet Joint Commission requirements by providing information on physician impairment at medical staff meetings or grand rounds. An overview of the services or a CME lecture on physician impairment may be scheduled by contacting Steve Carreras by email.

Support Your Colleagues
Do you want to help support your fellow physicians going through their own struggles? The Sterling Ruffin Fund was established to fund physician health and addiction programs. Your generous gift allows MSDC to continue supporting those physicians in most need.
MSDC President Asks Congressional Leadership to Support Dr. Lorna Breen Act
The legislation would support burnout prevention and wellbeing resources for the physician community nationally.

Today, MSDC President Dr. EW Emanuel sent the below letter to leaders in Congress asking for their support of the Lorna Breen Act.
May 25, 2021

Dear Senators Schumer and McConnell, and Representatives Pelosi and McCarthy;

My name is EW Emanuel, MD, and I am the current President of the Medical Society of DC (MSDC). MSDC is the largest physician organization located in Washington DC representing DC area physicians. Our members practice throughout this area and likely are your physicians, and your caucus' physicians, when you are working in Washington DC. We are proud to have you and your colleagues as our patients.

I am reaching out in support of the Lorna Breen Act. The Lorna Breen Act is monumental legislation that is vital to protecting the mental wellbeing of physicians.

Dr. Lorna Breen lived in an impactful life filled with helping others. As the emergency room director at the New York-Presbyterian Hospital, Dr. Breen spent longs house and dedicated her life to the care of her patients. Being a physician was Dr. Breen's identity and she was proud of the career she had created for herself.

During the COVID-19 pandemic, Dr. Breen had an overwhelming number of patients in need. Hospitals all over the country felt the stress of the pandemic and physicians were overworked, overwhelmed, and burned-out. Nobody was prepared for the effects the virus would bring to everyone individually. With the mounting pressure and stress Dr. Breen unfortunately took her own life. As our colleagues at the Medical Society of Virginia have noted repeatedly, she was a sister, daughter, friend, and a great physician.

With the memory of Dr. Breen comes the need for recognition of her life along with the need to bring awareness to the topic of mental health for physicians. We are all so aware that physicians across the country deal with burnout, career fatigue, and mental health issues. Many fear repercussions professionally, financially, and legally if they were to express their feelings.

The Lorna Breen Act was established by her family in memory and commitment to change. The Senate HELP committee is scheduled to vote on the Lorna Breen Act today. In support of this effort, I am asking you to schedule votes in your respective chambers to allow this legislation to receive consideration and hopefully passage.

The Lorna Breen Act is the first of its kind and is important to physicians. Preventing physician burnout is a nonpartisan issue, as it saves the lives of physicians and patients. This issue is the type that defines a member of Congress' legacy as its positive impact lasts long after members' terms end. You and your leadership teams can protect your own physicians and those across the country by ensuring this important legislation is scheduled for mark-up and a vote this year.

Sincerely,

EW Emanuel, MD
President, MSDC