PHP and Addiction Resources
Important update
The MSDC Physician Health Program has issued new guidance for participants regarding testing. This is in response to the COVID-19 outbreak. Read more here.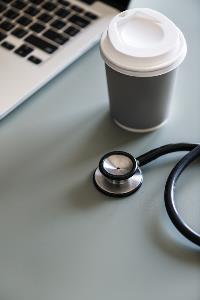 The MSDC Physician Health Program is a private, confidential, non-disciplinary program that works to advocate for the health and well-being of all physicians in the metropolitan Washington, DC, area and to safeguard the public.

The Program is HIPAA compliant and protects the confidentiality of participant records as set forth under DC and Federal law. The program is administered by the Medical Society of DC and is separate from the DC Board of Medicine. Read more in the MSDC PHP brochure.

For a confidential consultation for your or a colleague that may benefit from our help, please call (202) 466-1800 x102 or email us. This is not an emergency service; for emergencies please call 911 or the National Suicide Prevention Lifeline at 1-800-273-TALK.

Presentations

The PHP can help hospitals meet Joint Commission requirements by providing information on physician impairment at medical staff meetings or grand rounds. An overview of the services or a CME lecture on physician impairment may be scheduled by contacting Steve Carreras by email.

Support Your Colleagues
Do you want to help support your fellow physicians going through their own struggles? The Sterling Ruffin Fund was established to fund physician health and addiction programs. Your generous gift allows MSDC to continue supporting those physicians in most need.
New MSDC Partnership with VIDA Fitness Targets Health and Wellness of Healthcare Providers and Patients In Our Nation's Capital
Apr 16, 2021, 15:38 PM by MSDC Staff
MSDC and VIDA Fitness partnership offers innovative, comprehensive support for physician wellbeing.
Washington, D.C., April 16, 2021 – The Medical Society of the District of Columbia (MSDC), the largest medical organization in the District representing metropolitan Washington physicians, is pleased to announce a partnership with VIDA Fitness (VIDA). In addition, VIDA will be the Health and Wellness Partner to MSDC's Healthy Physician Program. The partnership aims to continuously and comprehensively improve the health and wellness of healthcare professionals and their patients.

MSDC Immediate Past President and Physician Wellbeing Committee Chair Dr. J. Desiree Pineda stated, "The Medical Society of DC appreciates VIDA Fitness' partnership, especially its support for MSDC's Healthy Physician Program, which is dedicated to improving the health and wellness of physicians in DC." In 2020, MSDC launched the Healthy Physician Program, a comprehensive program to address moral injury and burnout among physicians. Physicians have higher rates of burnout, depressive symptoms, and suicide risk than the general population. Recognizing that burnout manifests in many forms, the Healthy Physician Program was designed to offer myriad resources including coaching, counselling, networking, best practice templates and more. This partnership adds new support and resources for physician wellbeing.

VIDA Fitness Director of Operations Aaron Moore said, ""I am excited to launch our partnership to help serve DC's healthcare professionals and their patients, and to further establish exercise as a critical component of the healthcare continuum. As Health and Wellness Partner, we support a comprehensive approach to wellness. Our comprehensive approach includes physical activity, well-balanced nutrition, proper sleep habits, and healthy outlets to alleviate stress." VIDA provides each new client with a personalized onboarding service to set realistic goals and identify potential roadblocks.

VIDA has worked with its Medical Advisory Board to create a referral pathway for physicians and medical providers to help their patients make long-term lifestyle changes. Such changes can provide valuable health benefits, especially during the current pandemic. A recent study by the Centers for Disease Control and Prevention found a correlation between body mass index and COVID-19, noting that 78% of U.S. patients hospitalized with COVID-19 were overweight or had obesity. Mr. Moore added, "We are honored to serve DC's healthcare professionals as well as create a referral pathway for their patients. We thank MSDC for their time and energy in bringing this exciting partnership to life."

Another example of VIDA's approach to comprehensive wellness is the Evolve Wellness Program. Evolve is an insurance-eligible, results-driven program available virtually or in person. Each participant receives an initial assessment, personalized attention, and group socialization throughout the 12-week program. Click here for a full program overview.

# # #
Media Contact:
Pia Duryea
Medical Society of the District of Columbia
duryea@msdc.org
(202) 355-9414

About the Medical Society of the District of Columbia
With over 3,000 members, the Medical Society of the District of Columbia (MSDC) is the largest medical organization representing metropolitan Washington physicians in the District of Columbia. The Medical Society, founded in 1817, is the leading voice of medicine and public health advocate on issues impacting the diverse population of our Nation's Capital. MSDC is dedicated to ensuring the well-being of physicians and their patients in metropolitan Washington. For more information, visit msdc.org.