Washington Healthcare On Wednesdays
Washington Healthcare on Wednesdays (WHOW)
Each week, MSDC provides online community and on-demand information to meet the personal and professional needs of the physician community in Washington, DC.



Register Now
George Floyd, COVID-19 and America's Conscience
Co-hosted by the Medical Society of the District of Columbia and the Medico-Chirurgical Society of the District of Columbia

(This event is over. See VIDEO RECORDING.)

African-American communities nationwide have suffered from institutional racism, lack of access to equitable care, and physical and mental public lynching for 400 years. They are now confronted with three contiguous crises: 1) the opioid epidemic; 2) the COVID-19 pandemic; and 3) the George Floyd incident.

Here in the nation's capital, African-Americans have been particularly hard hit by the global pandemic, accounting for approximately 46% of the city's COVID-19 cases and 76% of the city's deaths (despite only comprising 47% of the population). This comes on the heels of the opioid crisis, which disproportionately impacted African-Americans, who comprised 84% of all deaths from opioid use in the District in 2018. Now, George Floyd's videotaped death, and multiple other recent cases, has ignited public protest in the District, across the nation and around the globe.

Our panelists will discuss the significance and impact of these overlapping crises at this moment in time. Weighing the historical and systemic factors, they will explore what can be done going forward and if we have indeed reached a tipping point.

PRESENTERS

EDWIN C. CHAPMAN, SR., MD
Addiction Medicine Specialist

Edwin C. Chapman, MD, has practiced in Washington, DC for over 40 years specializing in Internal Medicine and Addiction Medicine. He is an adjunct assistant professor in the Howard University Department of Behavioral Health and Psychiatry.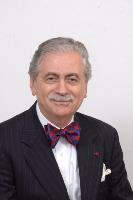 ELIOT SOREL, MD

Eliot Sorel, MD, is an MSDC Past President who served during the Society's 185th anniversary. Dr. Sorel is an innovative global health leader, educator, health systems performance expert, and a practicing physician. He co-chairs the Metrics Group of the Healthy Brains Global Initiative (HBGI) and is a member of the HBGI leadership team. Dr. Sorel has served as a subject matter expert for the Pan American Health Organization/World Health Organization (PAHO/WHO), U.S. National Institutes of Health, (NIH) Fogarty International Center, National Institute of Mental Health, (NIMH), World Bank Group (WBG), the Inter-American Development Bank (IADB), and the Organization for Economic Cooperation & Development (OECD) projects. See bio for additional publications and background.
This webinar is part of MSDC's Washington Healthcare on Wednesdays (WHOW) webinar series.
Past MSDC webinar recordings and information is for MSDC members only. You must be logged in to your member account to access this information.