Washington Healthcare On Wednesdays
Washington Healthcare on Wednesdays (WHOW)
Every Wednesday, MSDC provides online community and on-demand information to meet the personal and professional needs of the physician community in Washington, DC.



How old are the oldest fossils?
Where did the dinosaurs come from, and where did they go?
Have you eaten a dinosaur recently? (Or, maybe, Is there a dinosaur in your back yard?)
The answers to these questions and more will be revealed as we take a physician-led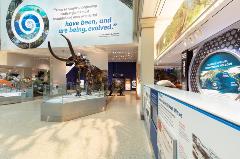 virtual tour of the newly renovated Fossil Hall at the Smithsonian Institution's National Museum of Natural History on May 20. Travel in #DeepTime from the comfort of your home through a virtual guided tour of the Fossil Hall and trace the early origins of life, examine patterns of evolution and extinction, dig through the age of dinosaurs and our ancient, and not-so-ancient, ancestors. Your physician tour guide will be Dr. Stephen Rockower (@DrBonesMD), Bethesda-based Orthopaedic Surgeon and official Docent at the Smithsonian National Museum of Natural History

Set aside time for an entertaining, insightful discovery of the Fossil Hall, without the traffic, crowds or parking. This webinar is open to physicians and their families (children 10+ years old)

This event is over. See the VIDEO RECORDING.
Paleontology Recommended Reading
Compiled by Stephen Rockower, MD

Cambrian Ocean World: Ancient Sea Life of North America by John Foster
Gaining Ground – The Origin and Evolution of Tetrapods by Jennifer Clack
When Life Nearly Died: The Greatest Mass Extinction of All Time by Michael J. Benton, (Thames & Hudson)
The Rise and Fall of Dinosaurs by Steve Brusatte
The Sixth Extinction – An Unnatural History by Elizabeth Kolbert
Skeleton Keys – The Secret Life of Bone by Brian Switek (couldn't resist including!)
"The Day The Dinosaurs Died" by Douglas Preston in The New Yorker